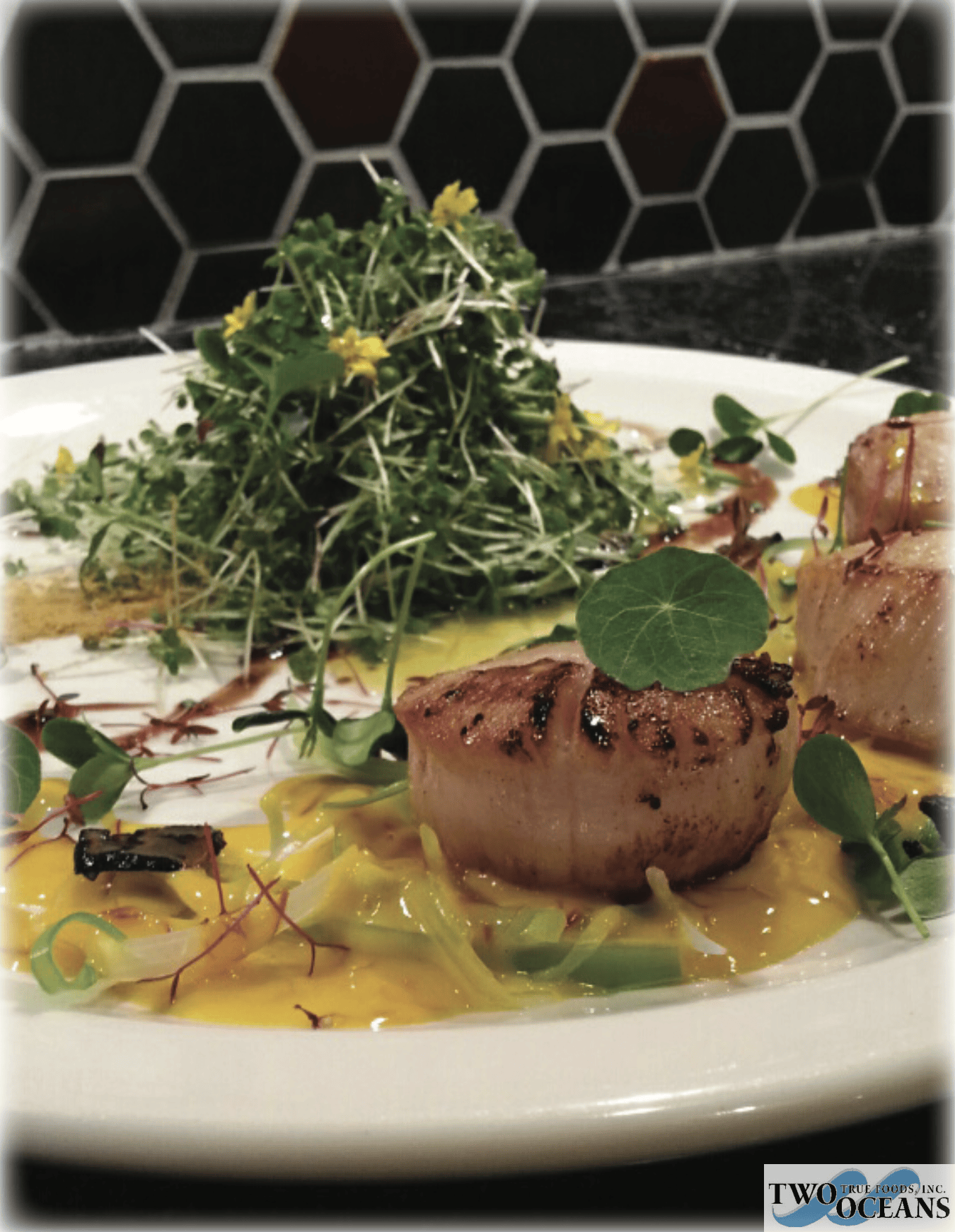 Ingredients:
Jack of Hearts® day boat scallops
A few good leeks
Olive oil, butter (preferably unsalted)
Salt
White pepper
Fresh herbs and microgreens of your choice
8 oz. sour cream
1 c. Chicken or vegetable stock
1⁄2 c. White wine or a few dashes of rice vinegar
Preparation:
Julienne: (thinly vertical slice) the bottom 6-8 inches of the leeks after removing the roots and cleaning. Sauté them in olive oil and butter until al dente, but still crisp and brightly colored.
Chop: a bit of the leeks' green tops in the opposite direction, yielding a good handful of round slices that will be put into the reduction.
Reduction: Combine the stock and wine and bring to a gentle boil. Add chopped leek and fresh herbs (lemon thyme or lemon zest and chopped ginger, for instance). Continue boiling until it is concentrated to about half the original volume. Strain off herbs and slowly whisk liquid into the sour cream just before serving. The result should be the consistency of heavy cream. Add more sour cream if necessary.
Sear: The thawed scallops in olive oil & a bit of butter, salt & pepper, in a very hot pan.
TIPPING POINT: The oil is hot enough when it just begins to smoke. The scallops will take a minute or less on each side – they are done when just a little browned. The prepared scallops should retain a bit of springiness – check this by pressing gently with a fork – 0r slice off a bit and taste it.
Serve: on a plate, fashion a nest of the sautéed leeks. Place the scallops in the nest and spoon the sour cream reduction over them. This dish goes well with Israeli couscous, a hearty rustic bread & a microgreen salad and/or a green vegetable.
This recipe also tastes great using any of our Jack of Hearts® seafood portions!