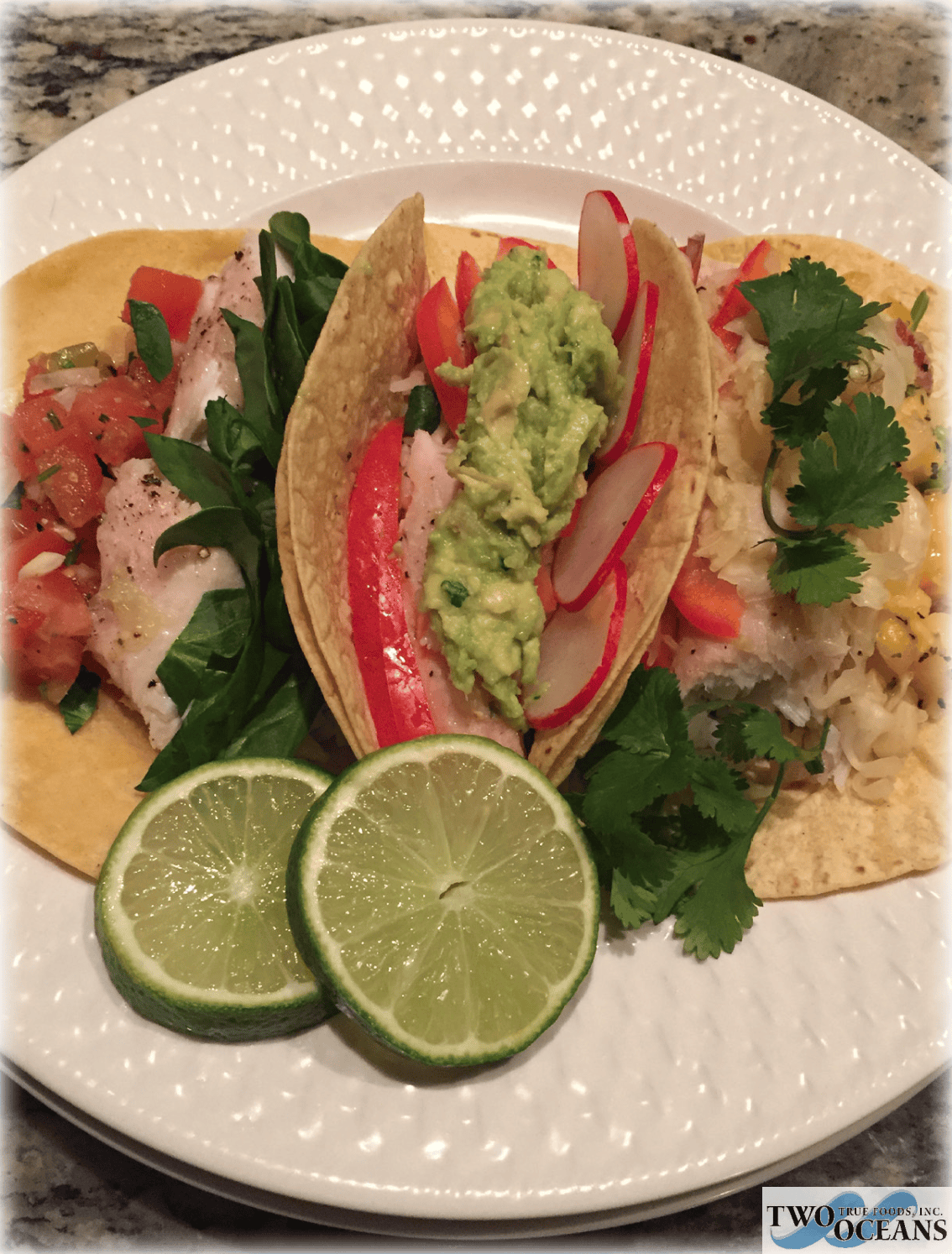 Ingredients (For two people):
2 – 6 oz portions of Jack of Hearts® mahi mahi
2-3 limes
1 bunch cilantro leaves, chopped
1 package corn or flour tortillas (soft or hard shell)
salt
pepper
olive oil
1 fresh tomato, chopped
1/2 fresh sweet onion
finely chopped freshly shredded spinach or lettuce leaves
Number-One Sons salsa verde
sour cream/siracha sauce (mix the two to taste)
Preparation:
Preparation of Fish: – Thaw mahi-mahi. Cover baking sheet with aluminum foil. Pat fish dry and place on sheet. Lightly drizzle fish with olive oil. Season fish with salt and pepper to taste. Squeeze fresh lime juice over all pieces. Place thinly sliced limes on top of fish. Bake for 14 minutes (fish should be slightly underdone). Place to the side.
Chop: – onions, tomatoes and cilantro.
Assembly: – Warm tortillas (we use a cast iron skillet). When warmed, set aside and cover with moist paper towel. When ready to assemble tacos, place tortilla on serving plate. Add 1/3 to 1⁄2 piece of mahi mahi (one piece can make 2-3 tacos), either in chunks or flaked. Add chopped tomatoes and onions, along with greens and chopped cilantro. Finish with Number One Sons salsa verde or your favorite salsa and/or sour cream.
helpful tips:
Quickly thaw mahi-mahi by placing the unopened package in a bowl of cold water. Plain yogurt makes a great substitute for sour cream.